Sydney Dental Practice Reveals Benefits of Laser Dentistry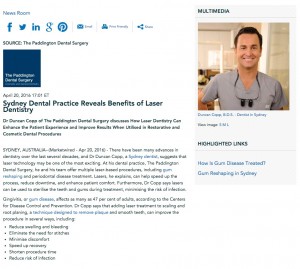 Dr Duncan Copp of The Paddington Dental Surgery discusses how laser dentistry can enhance the patient experience and improve results when utilised in restorative and cosmetic dental procedures.
Sydney, AU — There have been many advances in dentistry over the last several decades, and Dr Duncan Copp, a Sydney dentist, suggests that laser technology may be one of the most exciting. At his dental practice, The Paddington Dental Surgery, he and his team offer multiple laser-based procedures, including gum reshaping and periodontal disease treatment. Lasers, he explains, can help speed up the process, reduce downtime, and enhance patient comfort. Furthermore, Dr Copp says lasers can be used to sterilise the teeth and gums during treatment, minimising the risk of infection.
Gingivitis, or gum disease, affects as many as 47 per cent of adults, according to the Center for Disease Control and Prevention. Dr Copp says that adding laser treatment to scaling and root planing, a technique designed to remove plaque and smooth teeth, can improve the procedure in several ways, including:
Reduce swelling and bleeding

Eliminate the need for stitches

Minimise discomfort

Speed up recovery

Shorten procedure time

Reduce risk of infection
Additionally, Dr Copp indicates that laser technology can be used in cosmetic dentistry as well. Gum reshaping, also known as gum recontouring, is a technique that is designed to improve the balance between the gums and teeth for a more aesthetically appealing smile. Without a laser, he says this treatment can be slightly uncomfortable; however, laser technology can provide a virtually painless experience for many patients.
Dr Copp and his team are dedicated to patient care and results, and they say that laser technology can enhance treatment at every stage. They encourage patients interested in laser dentistry to discuss their goals with a dental professional who is highly experienced in using this equipment. For those fearful of the dentist, Dr Copp adds, this approach can help make the experience more comfortable and quicker than ever before.
About The Paddington Dental Surgery
Led by Dr Duncan Copp, The Paddington Dental Surgery offers a comprehensive selection of general, restorative, and cosmetic procedures for the whole family. Based in Sydney, the well-equipped practice is staffed with a highly trained team of dental professionals, including Dr Natalie Dumer, Dr Mark Brycki, and Dr David Cipriani, as well as skilled hygienists. Offering laser technology, holistic treatments, and sedation dentistry, the innovative office is committed to providing an exceptional patient experience and to achieving unsurpassed results.
For more information about The Paddington Dental Surgery, please visit thepaddingtondentalsurgery.com.au and plus.google.com/+ThepaddingtondentalsurgeryAu.
Contact:
The Paddington Dental Surgery
263 Glenmore Road
Paddington NSW 2021
Sydney, Australia
(02) 9331-2555
Rosemont Media
(858) 200-0044
www.rosemontmedia.com