Dr Sophie Lee
Bachelor of Dental Science (University of Queensland), Master of Science in Aesthetic Dentistry (King's College London)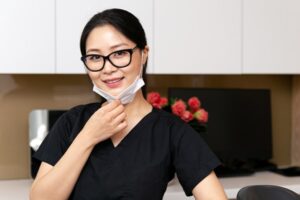 Dr Sophie Lee has been in practice for almost a decade with a deep passion and enthusiasm for minimally invasive aesthetic dentistry. Dr Sophie Lee graduated from the University of Queensland in 2013, before moving to Sydney to join a prestigious private practice in Cronulla. In 2019, she completed her Master of Science in Aesthetic Dentistry from King's College London, one of the top five in the world of dentistry. 
Dr Lee believes in self-development and stays current with the highest standard of practice to ensure the best care for her patients. Her professional experience extends across the extensive range of dentistry including cosmetic dentistry, minimally invasive dentistry, orthodontics, dental implants, general and emergency dental care for all age groups. She is prepared to answer any questions and provide a tailored treatment plan for each patient.  
Dr Lee's mission in dentistry is to be caring, compassionate, and kind in order to improve her patients' quality of life by guiding them to a healthy, confident smile. She trusts that an aesthetic smile is a healthy, functional smile and works determinedly to achieve it for her patients.
Sophie's calming nature often helps with nervous and anxious patients of all ages, and she works compassionately to make every patient's dental visit as comfortable and painless of an experience as possible. 
Sophie is an enthusiastic dog mum in her spare time. She also enjoys peaceful bushwalks and practicing tennis and golf.
"Best dentistry is achieved through teamwork – the dental professionals and most importantly, the patient."