Dr. Angie Lang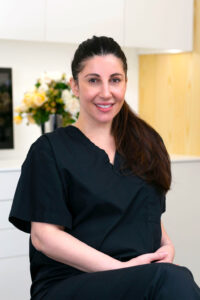 Dr Angie Lang graduated from the University of Sydney with a Bachelor of Applied Science in Nuclear Medicine before following her love of smiles and dentistry. After completing a Bachelor of Dental Surgery in 2003, also at the University of Sydney, Dr Lang worked with high-profile dentists in the Eastern Suburbs before opening her own practice.
Taking great pride in her work, Dr Lang is committed to furthering her professional development and remaining up to date with the latest in dental technology. Over the years she has gained extensive experience in all facets of dentistry, especially in the areas of cosmetic, reconstructive and implant dentistry. Her studies have taken her to California, New York and London. After completing all levels of accreditation with the Australian Institute of Implant Dentistry, Dr Lang instructed fellow dentists in implant surgery. As an expert in her field, she has also featured in Harper's Bazaar and Vogue magazines and is a contributor to health and lifestyle publications.
In 2011, Dr Lang was nominated to the then Dental Tribunal of NSW, now the NSW Civil and Administrative Tribunal. In 2015, she was appointed to chair a Ministry of Health committee, hearing matters and providing advice to the Dental Council. These roles are ongoing. Dr Lang completed a Masters in Health Law at the University of Sydney in 2016.
In 2015, Dr Lang sold her dental practice and stayed on as lead clinician and served a 3-year term on the Clinical Advisory Board to a dental corporate.
In her early years of dental practice, Dr Lang became intrigued with the impacts of acidity and sugars on oral health and began a period of 10 years' research. Seeking to overcome the dental problems caused by sugary and acidic drinks through preventive measures, Dr Lang founded a beverage company in 2017, and launched the flagship product, Swirlit. In 2019 Dr Lang graduated from Oxford University, with a Diploma in Strategy and Innovation.
Having an inquisitive and total health approach to oral health management, Dr Lang seeks long-term oral health for her patients. With special interest in gum health and managing worn teeth due to grinding and acid erosion, Dr Lang's approach involves working with medical and dental specialists to get to the cause of issues. Recognising the importance of lifelong oral health from a young age is important, and Angie educates and encourages children to take care of their smiles. Dr Lang enjoys managing integrated health plans, with the goal of having a restored smile and improved general health.
Outside of the dental practice, Angie loves skiing, playing chess and Pilates.
" Our mouths are the gateway to our overall health – find someone you can trust to help you look after it."