Implant-Supported Dentures
A smile that is missing teeth can be a frustrating and uncomfortable experience for many reasons. Missing teeth can make it difficult to eat and speak. The state of your oral health may also make you feel self-conscious, affecting your well-being and self-confidence. While many people choose to restore their smiles with traditional removable dentures, these appliances may not fit perfectly, causing physical discomfort. Additionally, traditional dentures can limit the types of food you can eat, potentially eliminating your favourite snacks. Fortunately, we offer another option. At The Paddington Dental Surgery, implant-supported dentures from our experienced dentists can help many patients return their smiles to ones of strength and beauty without the need for a full set of dental implants.
What Are Implant Dentures?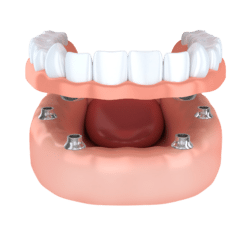 Implant dentures, also sometimes called implant-supported or implant-anchored dentures, are a type of dental appliance that is affixed to the upper arch, lower arch, or both to replace missing teeth. The denture is secured by four to six dental implants, so a snug fit can be achieved without the need for pastes, gels, and other messy adhesives. Implant dentures are one of many restorative treatments we offer, and the right one for you will depend on several factors unique to your needs, goals, and lifestyle.
What Are the Pros of Implant Dentures?
Implant-supported dentures offer a wide range of benefits for good candidates, including:
A secure and comfortable fit
Preservation of jawbone density and strength
Natural-looking results
The ability to eat virtually any type of food
No messy pastes, gels, or adhesives needed
Other advantages may apply depending on your individual treatment plan. Implant-anchored dentures also often come at a more affordable cost than a full set of dental implants. We can review the details of your program during your first appointment.
What Are the Different Types of Implant Dentures?
Implant dentures can be customised to suit your characteristics and desired outcome. When you arrive for your initial consultation, we will evaluate your concerns, answer your questions, and talk about what you would like to achieve with your procedure. We will then discuss which of the following may optimise your outcome:
All-on-4™
All-on-4™ is the original implant denture approach. With this technique, a denture can be fitted to the upper or lower arch using four dental implants.
All-on-6
All-on-6 is similar to All-on-4™, except this approach uses six dental implants. Six implants may be needed if you would like a more stable anchor or if you have insufficient jawbone strength for four dental implants. Many times, the lower jaw will need six implants.
Full Mouth Reconstruction
Full mouth reconstruction is a procedure that combines two or more restorative dental techniques to attain more comprehensive repairs and enhancements. If you're missing teeth and have other dental issues you would like to address, a full mouth reconstruction can give you the healthy smile you've always dreamed of.
How Is the Implant Dentures Procedure Performed?
We will meet with you and talk about what you would like to accomplish, what some of the issues you've experienced include, and provide answers to questions. We will then evaluate your oral structures to determine which type of treatment can provide the best results. The dental implants are made of titanium posts. The posts will be placed in carefully-selected locations in your mouth, where they will be inserted below the gumline and into the jawbone. You will be numbed thoroughly for this procedure and you should not experience much discomfort, if any. The implants take a few months to fully heal and become a permanent part of your mouth. So there will be a few limitations in what you can eat during this period. Adjustments can be made to ensure the fit and appearance is as desired.
How Much Do Implant Dentures Cost?
The price of implant dentures will depend on the complexity of your treatment plan, how many dental implants you end up using, and other pertinent factors. In general, implant dentures can cost as little as $1,500 and up, depending on your treatment plan. We want you to feel comfortable and confident in your program, and we will go over all the details with you. As part of this process, we will review the anticipated costs for the procedure. We know expenses can play an important role in your decision-making, and we will work with you to find a payment plan that fits within your budget.
Want to learn more? Contact our practice to find out if implant dentures can give you a smile you love to show off. We're looking forward to seeing you.