Cosmetic Dental Care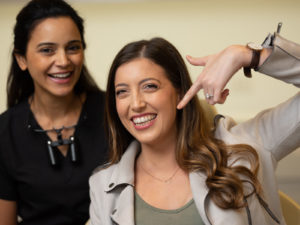 One of the best ways to make a fantastic first impression is to have teeth that look healthy and refreshed, ultimately providing you with a beautiful smile. Our experienced cosmetic dentists offer a comprehensive range of treatments designed to correct aesthetic imperfections and help you regain confidence in the way your smile looks. With options such as porcelain dental veneers, cosmetic gum reshaping, teeth whitening and more, we can help you attain your goals with state-of-the-art procedures and natural looking results.
Porcelain Dental Veneers
A variety of common aesthetic issues including chips, gaps, stains, and even misalignment can be beautifully corrected with porcelain dental veneers. A porcelain veneer is made of a strong ceramic material custom-designed to precisely fit over the affected part of the tooth with results that look natural. Veneers typically last for many years and they look and feel so much like natural teeth. You may forget you even have them.
Learn more about porcelain dental veneers
Teeth Whitening
Dr. Copp and his team at The Paddington Dental Surgery offer a number of in-office and at-home teeth whitening treatments that can give you a whiter, brighter smile. With treatments such as Zoom® teeth whitening, KöR Whitening, Discus Dental Day White®, Opalescence® Power Boost or Take Home, Pola whitening gels and Mirawhite® Oxygen Natural gel, you can considerably lighten the color of teeth that show signs of yellowing and staining.
Learn more about teeth whitening treatments
Invisalign®
Invisalign® can be a very successful teeth-straightening alternative to traditional metal braces. This system of clear, removable teeth aligners is virtually invisible on the teeth and requires less maintenance than other types of orthodontic treatment. You can remove them while eating, drinking, brushing and flossing. They really are the invisible alternative to braces.
Tooth-Coloured Fillings
Tooth-coloured fillings are the standard filling treatment at The Paddington Dental surgery as they have numerous advantages over amalgam and mercury fillings. With tooth-coloured fillings, cavities and tooth decay can be very conservatively treated with bonded, durable, nano-composite materials for small to medium sized restorations or with bonded ceramic in larger cavities. These latest generation materials look exactly like a healthy, natural tooth, and fit perfectly. They offer treatment solutions that are not only more beautiful than metal fillings, but are also more predictable, biocompatible, and longer lasting. Properly fabricated and fitted latest generation composites and ceramics work wonderfully, predictably and beautifully with the added benefit that the minimal tooth preparation strengthens the tooth to rival its natural, unrestored state. Our form of biomimetic dentistry creates highly aesthetic, extremely durable bonded restorations that have less complications like tooth fracture and root canal therapy than traditional dental care. Our state-of-the-art training, technology, and materials allows us to predictably provide fillings of unprecedented strength, durability and beauty. Being one of Sydney's most respected clinics provides us with a unique insight into how we can combine the science and art of dentistry, and provide our guests with long-lasting beautiful smiles.
Cosmetic Gum Reshaping
Too much gum tissue or teeth that appear too short can result in what's known as a 'gummy smile.' Our cosmetic dentists perform a number of state-of-the-art treatments such as gum lifting and gum reshaping that can improve the contour of your gums and give them a more symmetrical appearance around your teeth.
Learn more about cosmetic gum reshaping
Smile Makeover
Are you dissatisfied with the appearance of your smile? A Smile Makeover can address multiple cosmetic concerns using the latest techniques and technology and help you to enjoy a more beautiful smile. From teeth whitening to gum reshaping, this multi-modality procedure is customised to suit your needs and goals.
Learn more about Smile Makeover here
For more information on our cosmetic dental care treatments or if you'd like to make an appointment, please contact us today.