How Can Laser Dentistry Enhance My Oral Care?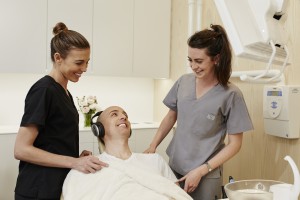 If the idea of a long, uncomfortable dental procedure makes you hesitate to undergo a needed or desired treatment, we may be able to help. Our dental team at the Paddington Dental Surgery offers state-of-the-art laser dentistry, which offers a wide range of benefits. Used for general, restorative, and cosmetic dentistry, lasers can enhance results, reduce treatment time, minimise discomfort, and much more.
At our practice, two of the most common procedures we perform with lasers are gum disease treatment and gum reshaping. Lasers can help to enhance healing and provide a virtually painless experience (in some cases, anaesthetic may also be used). Utilising a laser can also eliminate the need for stitches and reduce damage to surrounding oral structures. Furthermore, our advanced lasers are designed to reduce bleeding and swelling and to sterilise the treatment area. As a result, your recovery following a procedure could be shorter and more comfortable than ever before.
There are many benefits to incorporating laser dentistry into your oral health and aesthetic care. We would be happy to help you determine if this innovative technique can help you achieve your dental goals—just give us a call.