Dental Crowns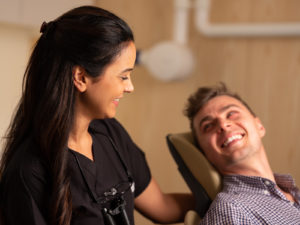 Damage and decay can mar the beauty of the smile and the function of the mouth. If a cavity (carie) becomes too significant for a traditional filling to address, a dental crown may be a more effective choice—one that can save a tooth from extraction. A dental crown is a tooth-shaped "cap" that is placed over a damaged or weak tooth to improve its strength, quality, and appearance. Depending on your individual needs and goals, our skilled cosmetic dentists may recommend a porcelain crown to preserve as much of the natural tooth structure as possible. Dental crowns are also used as part of the dental implant procedure—the crown is placed atop the post and serves as your new, natural-looking tooth. At The Paddington Dental Surgery, your care, comfort, and results are our highest priorities. With this goal in mind, we offer state-of-the-art porcelain dental crowns and same-day CEREC® technology to give you an optimal outcome in the shortest time possible.
What benefits can porcelain crowns provide?
Strength and beauty are just two of the many benefits porcelain dental crowns can offer. Other advantages include:
Restoration of severely damaged or decayed teeth
Enhancement of the structural support and the aesthetic value of the treated tooth
Coverage for dental implants, resulting in an outcome that appears and feels natural
Renewal of the appearance of misshapen teeth
Protection from further damage as well as wear and tear
Reparation of fractures, cracks, and other dental concerns
Am I candidate for dental crowns?
If you believe you have a dental concern that could benefit from treatment, our experienced dentists can evaluate your problem and determine if a porcelain crown can help you effectively address the issue. Dental crowns are often a better choice than extracting, or "pulling," the affected tooth, as the tooth structure helps to preserve a strong, supportive jawbone. Additionally, a crown typically will be a more affordable choice than some other restorative dentistry options. When you arrive for your initial consultation, we will discuss the available techniques and help you find the ideal approach for your needs and goals.
What is the dental crown procedure like?
While some procedures will require two appointments to complete, you may be able to have your dental crown created and placed on the same day, thanks to the advanced technology of CEREC®. This system can manufacture high-quality restorations while you wait comfortably in our office. Once treatment is complete, your results should be robust, dependable, and attractive.
When you arrive for your procedure, we will begin by taking a digital impression of your teeth and oral structures to ensure the most precise comfort and fit possible. The model of your teeth can then be sent to a lab, or we can create the crown in-office while you wait using CEREC® technology. The appearance of your end result is a high priority, and the crown will be manufactured to match the shape and colour of your existing teeth. If the dental crown is being used to restore a damaged tooth, the affected tooth will be cleaned and filed down prior to placing the restoration. It is our goal to preserve as much of the natural tooth as possible in this approach, and to give you the most comfortable experience possible. If the crown is part of the implant process, you can learn more about that treatment on our dental implant page. Once the crown is put into place, we will take the time to ensure the fit is as we described and the outcome is as we discussed.
What Is a Dental Bridge and Do I Need It?
A dental bridge is designed to replace one or more missing teeth in a row. In some instances our dentists may recommend that you receive this restorative treatment.  A dental bridge can serve as an alternative to one or more dental implants in certain circumstances, and many factors will affect whether a bridge or implant may be the better choice for you. A dental bridge uses the teeth on either side of the missing tooth to support the restoration. The treatment requires the supporting teeth to be prepared and capped with dental crowns, creating the appearance and function of a full set of healthy teeth in the affected area. Our goal is to provide the most natural-looking results possible, as well as an outcome that gives you the confidence and comfort to smile, eat, and speak as if you had never lost any teeth at all. If you are interested in learning more about dental bridges during your appointment, please don't hesitate to ask our team for more information.
Want to know more about how dental crowns can enhance your smile? Contact our practice today to ask our friendly team questions or to schedule a consultation.