Orthodontics
People of every age can benefit from orthodontic solutions that provide them with straighter teeth and an even more beautiful smile. At The Paddington Dental Surgery, we cater to the alignment needs of children, teenagers and adults. Whether you're looking for traditional braces, a more discreet straightening method (such as Invisalign), or if your child simply needs more space for growing permanent teeth, our experienced cosmetic dentist will recommend the best course of action to reach your goals.
What Is Orthodontics?
Orthodontics is the dental specialty that focuses on the science of tooth movement. In orthodontic treatment, alignment and occlusion (bite) irregularities are corrected to improve the function of the teeth and jaws. This can be achieved using a wide array of techniques, and traditional metal braces are, perhaps, the most well-known of them. Invisalign, an innovative teeth-straightening method, allows patients to address many common orthodontic concerns with greater comfort than ever before. We can help you determine if this or another approach is right for your needs and goals.
Do I Need Braces?
There are many signs that can indicate you need braces. Some ways to tell that you may need orthodontic treatment is if you have gaps between teeth, crooked teeth, protruding teeth, difficulty biting, or jaw pain. One of the best ways to prevent teeth misalignment and other oral problems in the future is by getting braces early on when you notice these signs developing. We recommend consulting with a dentist to determine if orthodontic treatment is right for you. Every patient is unique and will be carefully evaluated during the consultation.
What Types of Concerns Does Orthodontic Treatment Correct?
Orthodontic treatment can address a variety of concerns. Here is a list of common problems that orthodontics can typically improve:
Teeth that are visibly crooked or crowded
Teeth that have too much space between them
Bite issues (i.e., an underbite, crossbite, or overbite)
A misaligned jaw (malocclusion)
Difficulty brushing or flossing between crooked teeth
Frequently biting inner cheeks or tongue due to misaligned teeth
Speech issues resulting from crooked teeth
Jaw pain or fatigue when chewing
Grinding or clenching of teeth
If you are experiencing one or more of the symptoms listed above, we recommend that you talk to an experienced dentist. Depending on your dental needs and goals, you and your dentist can determine if orthodontic treatment is necessary.
Child Orthodontics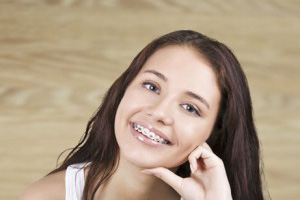 By addressing misaligned teeth at an early age, you can help prevent the need for extensive work in the future. A common problem in young patients is the lack of space for their new adult teeth. With early evaluation, our dental team can create a treatment plan that will make it possible for more space to develop between the teeth and reduce the potential for the teeth to crowd each other as they come in. This can be very effective for reducing and even eliminating the need for future surgical extraction or major orthodontic treatment later in life. With early treatment as your child's teeth are developing, we are able to catch and treat a number of potentially serious orthodontic issues before they become permanent. Make sure to schedule routine orthodontic checkups for your child to prevent and treat alignment issues, bite issues or other concerns.
Why Should I Consider Early Orthodontic Treatment for My Child?
Treating alignment problems now may mean fewer or less complicated concerns later on. Early orthodontic treatment is designed to correct or minimise developing misalignment or malocclusion (which literally means "bad bite"). When the arches or jaws are not in the optimal position, children can experience problems speaking or eating, have jaw and other body pain, or wear down their teeth—leading to damage and decay. Early treatment and two-phase treatment can limit these issues in certain patients. That said, early orthodontics is not appropriate for every case, and we can evaluate your child's needs to determine if an early intervention is necessary.
Signs Your Child May Need Orthodontic Treatment
If your child is seven years of age or older, a first visit with the dentist is a great idea to identify any potential concerns. Permanent teeth often start replacing baby teeth at this age, which is why it's important to nip any problems in the bud before they become serious. Other signs your child may need to schedule a consultation include:
Baby teeth fell out early
Child has difficulty eating, chewing, or speaking
Child is a thumbsucker
Teeth are crowded or irregular
Child's jaw shifts or makes sounds when moving
Child often bites their cheek or roof of their mouth
The bite is irregular or teeth don't meet when closed
Overly large or small teeth
Adult Orthodontics
As an adult, you can still attain straighter teeth without having to worry about wearing noticeable metal braces. In this day and age, there are several advancements in the orthodontic field to provide a discreet, yet effective solution for crooked teeth, misalignments and bite issues. If you would like to straighten your teeth but have been reluctant to do so based on the bold appearance of traditional braces, consider our alternatives such as Invisalign.
Our Sydney cosmetic dentists have extensive training in orthodontics and can often complete comprehensive orthodontic treatment right here under one roof. Please visit our practice to learn which treatments may work best for you.
Orthodontic Treatments
Invisalign®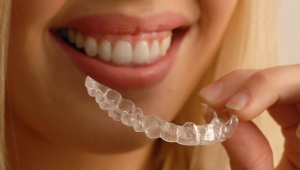 Through the virtually invisible technology of Invisalign, you can achieve a straighter smile without anyone suspecting you are undergoing treatment. Invisalign clear teeth aligners are custom-designed to help you gradually straighten your teeth with no wires or brackets involved. They are removable for eating, drinking, brushing, and flossing. They are known to be much more comfortable alternatives for people who have mild, moderate and even severe teeth misalignment issues. From a short dental evaluation, you'll find out which orthodontic methods will work best in your journey to achieving straighter teeth.
How Much Does Orthodontic Treatment Cost?
The cost will vary depending on the specific orthodontic treatment you receive. At our practice, the Invisalign cost can range anywhere between $4,500 and $12,000, but it really depends on your treatment plan. In some cases, Invisalign may be more affordable than other orthodontic treatments like traditional metal braces. There are many factors that can affect the price, and your dentist will be able to give a more accurate quote during the consultation. For your convenience, we offer a wide variety of payment options, including flexible financing methods through Zip Money and Afterpay. If you have any questions or concerns regarding financing, please do not hesitate to contact our office. A knowledgeable member of our team will be happy to assist you over the phone or in person during the consultation.
Does Insurance Cover Orthodontics?
Patients with an insurance plan that includes benefits for orthodontics can expect their orthodontic treatment to be fully, or at least partially, covered by insurance. Most insurance companies classify Invisalign as an orthodontic treatment, so it would be included in those benefits as well. Every patient's insurance policy is different, and our team can help you find out if there is coverage for your specific orthodontic treatment.
Contact The Paddington Dental Surgery
For more information about our child or adult orthodontic options, or if you'd like to make an appointment, please contact us today.