All-on-4™
Traditional removable dentures are often used to restore the smile when all the teeth are missing, but many patients find these appliances uncomfortable and limiting. They can slip, causing soreness; they may not fit snugly, allowing food particles to collect underneath and cause infections; and they can lead to jawbone loss over time. Our extensively trained dentists and knowledgeable team offer an innovative solution that can provide a stable, comfortable, and attractive alternative to traditional dentures. If you're dissatisfied by your denture experience, All-on-4 may be right for you.
What Is All-on-4™?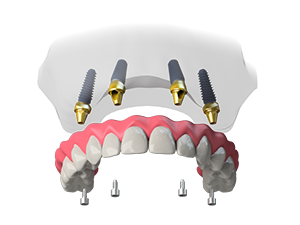 A type of implant-supported denture, All-on-4 is designed to replace all upper or lower teeth using just four dental implants and a denture appliance. The implants are placed in targeted locations in the mouth to provide a comfortable and secure fit without slippage. As a result, this innovative method can provide many of the benefits of a full set of dental implants while removing many of the inconveniences of traditional removable dentures.
What Are the Benefits of All-on-4™ Dental Implants?
Traditional dentures require messy pastes and adhesives to remain in place, and these methods may not be totally effective. Traditional dentures also cannot preserve jawbone density, often leading to cosmetic and health problems down the line. All-on-4 dental implants offer many benefits, including:
A comfortable, secure, and precise fit
No limitations on foods that can be eaten
No adhesives, pastes, or gels needed
Low maintenance
Natural-looking results
Preservation of jawbone density
Patients who are not candidates for a full set of dental implants may still be eligible for All-on-4. We will evaluate your concerns, discuss your goals, and develop a customised treatment plan that can give you the best outcome possible. This may mean All-on-4, or it could be another approach. Your care, comfort, and results are our highest priorities, and we will work with you to find the optimal solution.
What Should I Expect During the All-on-4™ Procedure?
Some types of implant-supported dentures can be used to replace a quadrant of teeth; All-on-4, however, is designed to replace an entire row of teeth. If you have any teeth in the area being restored, the remaining teeth can be extracted prior to beginning. Four titanium posts will then be implanted through the gumline and into the jawbone where they should eventually fuse with bone for a strong and secure fit. The denture appliance will be attached to these posts. Initially, you may have some restrictions on foods you can eat during recovery. Once you are fully healed, typically within four to six months, you can enjoy the freedom of having a comfortable, durable, and beautiful smile.
Upper Arch Replacement
In most cases, four dental implants can be used to replace all of the teeth on the upper arch (top row) of the mouth.
Lower Arch Replacement
Similarly, four dental implants can be used to replace all of the teeth on the lower arch (bottom row) of the mouth.
Full Mouth Restoration
In a full mouth reconstruction, both the upper and lower arches are replaced, with four dental implants on the top and four implants on the bottom, for a total of eight dental implants and two denture appliances.
Depending on your needs and goals, six dental implants may be recommended for a stronger foundation. This procedure is known as All-on-6. Our dentists will discuss this option with you during your appointment if they believe it can provide the best outcome. We customise each program to suit the needs of the individual, and we will tailor your treatment for you.
How Much Do All-on-4™ Dental Implants Cost?
Since we personalise all our treatment plans, the price of All-on-4 dental implants can vary from individual to individual. Every mouth is unique, and everyone's needs and goals are unique. That said, we believe that the more well-informed you are about your options, the more satisfied you will be with the result. We will provide a detailed overview of the anticipated total cost of your procedure during your initial consultation, and we will help you submit any dental insurance forms.
Don't let ill-fitting dentures stop you from enjoying your best life. Contact us today to find out if this innovative approach to smile restoration can help you feel more confident and comfortable.