Invisalign®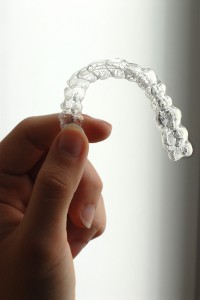 Invisalign® can help you achieve straighter teeth in a discrete and more comfortable way than the self-consciousness that often accompanies treatment with metal braces. This system of clear, removable teeth aligners is virtually invisible on your teeth and can help you reach your goals with less of the hassle associated with other orthodontic methods. Invisalign® can be a great way to address lifelong problems you may have had with your teeth, without anyone even noticing you are undergoing treatment.
What are the benefits of Invisalign®?
While traditional orthodontic procedures such as metal braces can be very effective at correcting teeth misalignment and bite issues, they can often be very uncomfortable and cause you to feel embarrassed just opening your mouth to smile. Invisalign® can resolve these issues by serving as a much less noticeable method of straightening your teeth. Some of the benefits of Invisalign® include:
Virtually invisible teeth aligners
No wires or brackets
Less maintenance required
Reduced need for return visits and adjustments
Aligners can be removed for eating, drinking, brushing, and flossing
Improved comfort
Less time is typically required to achieve optimal results, when compared with other orthodontic procedures
The Invisalign® Treatment Process
After our experienced Invisalign® cosmetic dentist has evaluated your teeth and determined that Invisalign® can be a good option for your needs, they will create an impression of your teeth to serve as a precise guide for the creation of the teeth aligners. Once the custom-designed Invisalign® clear teeth aligners have been made, you will be provided with a series of them to take home. You will wear the first set of aligners for about two weeks, after which you will replace them with the next set of aligners in the series. Each aligner is slightly modified from the one before, allowing for a gradual progression of teeth movement into a more desirable position.
The Invisalign® clear teeth aligners can be removed while you eat, drink and clean your teeth each day. The entire treatment process typically takes about 9 to 15 months to achieve the best results.
AcceleDent® Aura
To further hasten the results of the Invisalign® procedure, we also offer AcceleDent® Aura. This innovative dental device uses gentle vibrations to help shift the position of your teeth in less time—often reducing the length of treatment by as much as 50 per cent. The mechanism behind the vibrations is known as SoftPulse™ Technology, and it enhances the gradual remodelling of your oral structures. To more rapidly achieve straighter teeth, place the AcceleDent® Aura mouthpiece around the Invisalign® tray, bite down softly, and activate the appliance. Continue for 20 minutes and repeat each day for optimal results. Our friendly and knowledgeable team will be happy to tell you more about AcceleDent® Aura and show you how simple it is to use during your initial consultation.
Invisalign® can be an effective and much less noticeable option for patients who want to straighten their teeth and improve the appearance of their smile, without having to suffer the drawbacks of metal braces.
For more information on Invisalign® or if you'd like to schedule a consultation, please contact us today.