Dental Facelift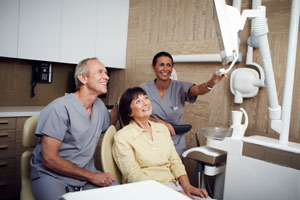 If you want to reverse the effects of aging on your face, a dental facelift may be the solution for you. The procedure is non-invasive, making it a less intimidating alternative to injections and the traditional facelift. With the artistic and precise work of The Paddington Dental Surgery team, porcelain veneers are shaped to add fullness to patients' smiles, while still providing a completely natural look.
The dental facelift works by adding volume or length to teeth to fill the face, while also improving tooth appearance. As we age, muscles in the face loosen and teeth become worn down. An effective way to correct this is by building the teeth back up. This simple addition of dental veneers creates desirable results seen in the entire face and not just when you're smiling.
Benefits of the Dental Facelift
The dental facelift does wonders to help rebuild self-confidence. Once the veneers have been put into place, you'll enjoy a rejuvenated and youthful appearance as well as many other benefits:
Thin lips turn fuller from higher tooth volume
Teeth are brightened as if you had undergone teeth whitening
Overbite or underbite is corrected
Speech is improved from adjusted teeth positioning
Sunken cheeks are supported for a healthier look
Face is elongated to reduce the appearance of wrinkles
Like with any procedure, your dental facelift will be customized to your unique needs, and only what you wish to change will be addressed. In practically no time at all, you can have the refreshed look you desire.
The Dental Facelift Procedure
Our experienced team of cosmetic dentists will complete your dental facelift often in just a few appointments. In your consultation, we will establish your goals and your dentist will reveal what work needs to be done. When it comes time for the procedure, your dentist will walk you through what steps are being taken to reach your goals. After preparing your teeth, the custom-designed veneers will be affixed to your natural teeth, leaving you with a bright new smile.
Since no surgery is necessary during the procedure, there is no recovery time needed. Overall, the dental facelift proves to be a convenient procedure that provides our patients with long-lasting results.
For more information about the dental facelift or if you'd like to make an appointment, please contact us today!