Dr. Nancy Henein, Bachelor of Dental Surgery, Honours (Uni of Melbourne)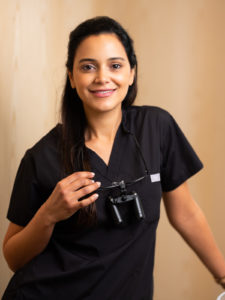 Dr Nancy Henein graduated from the University of Melbourne in 2006, and her passion for dentistry was demonstrated early on through her studies. Graduating with Honours, she was placed on the Dean's Honours List, and later awarded the William Leslie Elvins Medal for academic excellence.
Working in Melbourne's eastern suburbs for the past 11 years, she developed a reputation for dental excellence and a loyal following through her ability to deliver exceptional dentistry brought on by a  gentle and warm personality. Her attention to detail and wealth of knowledge is obtained through countless hours of continuing education training.
In 2015, she completed her two year mini residency in Orthodontics giving her in depth insight and an eye for interceptive orthodontic treatment for those who may benefit from it.
In 2017 she completed her AADFA training in Dento-facial rejuvenation and the application of fillers for the therapeutic management of Temporomandibular Dysfunction (TMD) as well as enhancing outcomes of cosmetic dental treatment.
Outside of private practice work, she became appointed the official dentist for an orphanage in Nadi, Fiji , at St Minas Children's Home, looking after the dental needs of children from ages 3 to 13, enriching her dental vocation through volunteer work.
Dr Nancy Henein relocated to Sydney, enjoying the beachside lifestyle and bringing with her a passion for excellence in all facets of dentistry, which she aims to deliver to all her clients at The Paddington Dental Surgery. From routine dental check ups to complex reconstructive and cosmetic dental treatment, she will work tirelessly to ensure the comfort and needs of her clients are met.
" Our mouths are the gateway to our overall health – find someone you can trust to help you look after it."