How Does Invisalign® Work?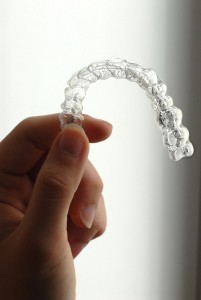 An alternative to traditional metal braces, Invisalign® is an innovative teeth-straightening system that offers a more discreet and comfortable way to correct crowded, gapped, or crooked teeth. Many people wonder how this procedure can work without the need for wires, brackets, or metal. Our extensively trained dentists explain that the answer lies in the clear, removable aligner trays and AcceleDent® Aura.
When you arrive for your initial consultation, one of our skilled dentists will evaluate your dental concerns and develop a personalised treatment plan. This plan will include wearing a series of clear, removable aligner trays, which will be custom-fitted for your teeth and your ultimate alignment goals. You will wear each tray for about one to two weeks before moving on to the next aligner in the series. The trays gradually adjust the position of your teeth toward the final goal. Because of the progressive nature of the procedure, you should experience greater comfort than with metal braces. Additionally, Invisalign® is virtually unnoticeable when worn and can be removed for drinking, eating, brushing, and flossing.
Our practice also utilises AcceleDent® Aura to help accelerate treatment. This innovative handheld device uses SoftPulse™ Technology to gently guide your oral structures into their new position. By using AcceleDent® Aura for 20 minutes each day, you can speed up the results by as much as 50 percent! Together with Invisalign®, patients can often achieve the desired outcome in less time than traditional braces and Invisalign® alone—in many cases as little as 9-15 months.
Have you been thinking about enhancing your smile? Talk to us to see if Invisalign® and AcceleDent® Aura can help you obtain the outcome you're looking for.