Teeth-Straightening Options for Adults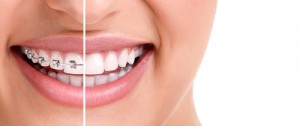 Picture in your mind a person wearing braces—how old are they? Whilst the traditional notion of braces typically conjures an image of a "metal-mouthed" teenager, more and more adults are choosing to straighten their teeth with the latest techniques. At The Paddington Dental Surgery, Natalie Dumer, BDS offers a wide range of orthodontic options for all ages. In addition to ceramic or metal braces, we also have Invisalign® clear teeth aligners. If you've been hesitant in the past, now is a great time to achieve your smile goals.
Many adults opt for Invisalign® clear aligners to help straighten their teeth and improve bite alignment. This innovative method offers a more discreet and often more comfortable experience than traditional braces. However, not everyone is an ideal candidate. If you find that Invisalign® is not right for you, ceramic braces can still be a great option. There have been many advancements made that make the process easier, faster, and more effective than ever before. Our experienced dental team can discuss your goals and evaluate your needs to develop a customized treatment plan. Many patients are able to complete the process in as little as 12-18 months.
You deserve to smile confidently, eat and speak comfortably, and love the way your teeth look. Don't put off braces any longer, come talk to us about your options.