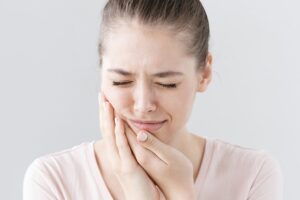 Eating one's favourite foods can be one of the most enjoyable parts of the day, but what happens when chewing causes persistent pain? If you notice your jaw feeling sore, making popping or clicking sounds, or being difficult to open or close, you may suffer from TMJ Disorder. This condition occurs when the temporomandibular joint does not function properly. Since the TMJ connects your jawbone to your skull, and is responsible for movements like chewing and speaking, it tends to flare up around mealtime for many people. Fortunately, this condition can be managed, if not completely resolved. 
TMJ treatment begins with finding the cause of your jaw disorder, which could be related to arthritis, an imbalance, teeth clenching, misalignment, or overuse. Our experienced TMJ specialists at The Paddington Dental Surgery closely evaluate each case of TMJ Disorder to make a diagnosis and determine what may be contributing to the problem. This may involve listening for any sounds the jaw is making, evaluating your bite, checking for tenderness, and possibly doing an imaging scan for a more in-depth look at your jaw structure.
While there are a variety of treatments you can perform at home, such as eating softer foods, performing facial massage, or applying heat or ice to your jaw, these typically only reduce symptoms temporarily and do not treat your TMJ Disorder long-term. If you regularly have jaw pain, we encourage you to schedule an appointment with one of our dentists. After assessing your condition, they can customise treatment to help you maximise your TMJ function and achieve lasting relief from your symptoms.
To get a diagnosis for TMJ Disorder and learn which treatment method may provide the best possible results for your unique case, please feel free to contact our office.