Is There a Way to Straighten Teeth Without Braces?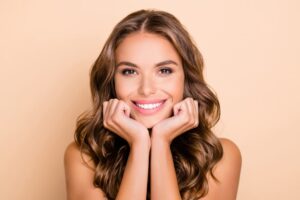 There are many people who would like to improve signs of crooked or crowded teeth but would prefer not to choose the traditional braces route. Patients typically consider braces unfavourable because the brackets and wires can be highly visible on the teeth and may cause discomfort during the teeth straightening process. This is why our team offers porcelain veneers and Invisalign® as effective alternatives to traditional braces.
Porcelain veneers can be an optimal treatment for correcting the appearance of crooked teeth along with addressing other cosmetic concerns, such as chips, cracks, gaps, and tooth discoloration. Veneers are very thin shells made up of durable porcelain that cover the front portion of the tooth to conceal any dental imperfections. Although porcelain veneers can be an optimal solution for many patients, some individuals with extremely crooked teeth may not be good candidates. More severe misalignment can pose a threat to a patient's oral health and orthodontic treatments like Invisalign® may offer a better option for these cases.
For the Invisalign® process, patients must wear their customized clear aligner trays for most of the day except when eating, drinking, brushing, or flossing. Teeth straightening with Invisalign® is considered to be a more comfortable process than with traditional braces since patients do not have to worry about wires and brackets poking their cheek or tongue. Many people tend to choose Invisalign® because the aligner trays are virtually invisible and can improve many cases of crooked or crowded teeth with little to no discomfort.
While traditional braces may be recommended for particularly severe orthodontic concerns, individuals should definitely be aware that they are no longer the only effective solution to fixing these types of conditions. We invite you to contact us today if you would like to learn more about your teeth straightening options or to schedule a consultation. We look forward to hearing from you!