Sydney Dentists Contrast Porcelain Dental Veneers and Teeth Whitening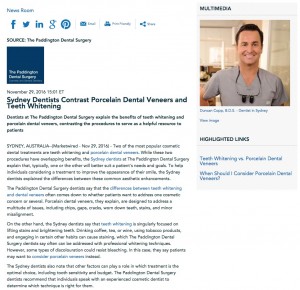 Dentists at The Paddington Dental Surgery explain the benefits of teeth whitening and porcelain dental veneers, contrasting the procedures to serve as a helpful resource to patients.
Sydney, AU — Two of the most popular cosmetic dental treatments are teeth whitening and porcelain dental veneers. While these two procedures have overlapping benefits, the Sydney dentists at The Paddington Dental Surgery explain that, typically, one or the other will better suit a patient's needs and goals. To help individuals considering a treatment to improve the appearance of their smile, the Sydney dentists explained the differences between these common aesthetic enhancements.
The Paddington Dental Surgery dentists say that the differences between teeth whitening and dental veneers often comes down to whether patients want to address one cosmetic concern or several. Porcelain dental veneers, they explain, are designed to address a multitude of issues, including chips, gaps, cracks, worn down teeth, stains, and minor misalignment.
On the other hand, the Sydney dentists say that teeth whitening is singularly focused on lifting stains and brightening teeth. Drinking coffee, tea, or wine, using tobacco products, and engaging in certain other habits can cause staining, which The Paddington Dental Surgery dentists say often can be addressed with professional whitening techniques. However, some types of discolouration could resist bleaching. In this case, they say patients may want to consider porcelain veneers instead.
The Sydney dentists also note that other factors can play a role in which treatment is the optimal choice, including tooth sensitivity and budget. The Paddington Dental Surgery dentists recommend that individuals speak with an experienced cosmetic dentist to determine which technique is right for them.
About The Paddington Dental Surgery
The Paddington Dental Surgery offers a comprehensive selection of family, cosmetic, and restorative dental treatments to patients in the Sydney area. Led by Dr Duncan Copp and a team of experienced dental professionals, the office emphasises holistic techniques, eco-friendly practices, and customised treatment plans. The well-equipped facility boasts state-of-the-art technology and sedation dentistry options, which are designed to give each patient the best care possible.
For more information about The Paddington Dental Surgery, please visit thepaddingtondentalsurgery.com.au and plus.google.com/+ThepaddingtondentalsurgeryAu.
Contact:
The Paddington Dental Surgery
263 Glenmore Road
Paddington NSW 2021
Sydney, Australia
(02) 9331-2555
Rosemont Media
(858) 200-0044
www.rosemontmedia.com