The Paddington Dental Surgery is First in Australia to Offer Unique New Examination Tool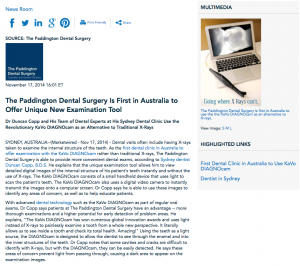 Dr Duncan Copp and his team of dental experts at his Sydney dental clinic use the revolutionary KaVo DIAGNOcam as an alternative to traditional X-rays.
Sydney, AU — Dental visits often include having X-rays taken to examine the internal structure of the teeth. As the first dental clinic in Australia to offer examination with the KaVo DIAGNOcam rather than traditional X-rays, The Paddington Dental Surgery is able to provide more convenient dental exams, according to Sydney dentist Duncan Copp, B.D.S. He explains that the unique examination tool allows him to view detailed digital images of the internal structure of his patient's teeth instantly and without the use of X-rays. The KaVo DIAGNOcam consists of a small handheld device that uses light to scan the patient's teeth. The KaVo DIAGNOcam also uses a digital video camera to instantly transmit the images onto a computer screen. Dr Copp says he is able to use these images to identify any areas of concern, as well as to help educate patients.
With advanced dental technology such as the KaVo DIAGNOcam as part of regular oral exams, Dr Copp says patients at The Paddington Dental Surgery have an advantage – more thorough examinations and a higher potential for early detection of problem areas. He explains, "The KaVo DIAGNOcam has won numerous global innovation awards and uses light instead of X-rays to painlessly examine a tooth from a whole new perspective. It literally allows us to see inside a tooth and check its total health. Amazing!" Using the teeth as a light source, the DIAGNOcam is designed to allow the dentist to see through the enamel and into the inner structures of the teeth. Dr Copp notes that some cavities and cracks are difficult to identify with X-rays, but with the DIAGNOcam, they can be easily detected. He says these areas of concern prevent light from passing through, causing a dark area to appear on the examination images.
In regard to maintaining one's oral health, Dr Copp recommends that patients schedule an oral exam and dental cleaning with their dentist two times per year. He explains that these appointments can help to catch any dental issues before they worsen, and allows dentists to recommend appropriate adjustments to the patient's daily oral hygiene routine.
About Duncan Copp, B.D.S.
As part of the prestigious King's College London Dental Schools Post Graduate Masters in Cosmetic Dentistry Program, Dr Copp is one of very few dentists internationally to acquire training for this formal qualification. Dr Copp is also an active member of several professional organisations, including the American Academy of Cosmetic Dentistry, the Australian Dental Association, and the Academy of Laser Dentistry. He has over twenty years of experience in both general and cosmetic dentistry, and maintains his dental knowledge through continued education in advanced dental training in Australia, as well as worldwide. Dr Copp is available for interview upon request.
To learn more about Dr Copp and The Paddington Dental Surgery, please visit thepaddingtondentalsurgery.com.au.
Contact:
The Paddington Dental Surgery
263 Glenmore Road
Paddington NSW 2021
Sydney, Australia
(02) 9331-2555
Rosemont Media
858-200-0044
www.rosemontmedia.com