How Do I Choose the Right Dentist for My Dental Implants?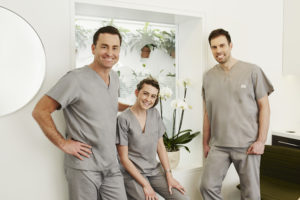 A highly recommended solution for missing teeth, dental implants can provide a natural-looking result that's both strong and long-lasting. To ensure the outcome is all of those things, it's important for patients to choose an experienced and qualified dentist who is dedicated to safety, results, and patient care. To help you identify the right dental professional for you, we have provided some ways to identify a potential oral surgeon:
Review their educational background
Ask if they have completed additional training in dental implantology
Ask if they have dental implant before-and-after photos you can look over, or if they have patients who have had the procedure you can speak with
Ask how often they perform this procedure
Discuss your goals—do they make you feel comfortable about their recommended treatment? Are there alternatives, like All-on-4™ or implant dentures, that you can consider?
The dentist you choose should put you at ease and make you feel confident in their approach. It's normal to be a little nervous before a procedure, but you should be reassured by the dentist's demeanor and "bedside" manner.
The team at Paddington Dental Surgery is extensively trained in placing dental implants, and he will make every effort to help you find a solution to your concerns that is comfortable, beautiful, and functional. Talk to us today to learn more and to schedule a consultation.