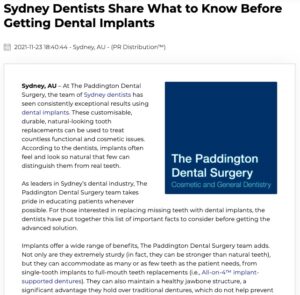 Sydney, AU – At The Paddington Dental Surgery, the team of Sydney dentists has seen consistently exceptional results using dental implants. These customisable, durable, natural-looking tooth replacements can be used to treat countless functional and cosmetic issues. According to the dentists, implants often feel and look so natural that few can distinguish them from real teeth.
As leaders in Sydney's dental industry, The Paddington Dental Surgery team takes pride in educating patients whenever possible. For those interested in replacing missing teeth with dental implants, the dentists have put together this list of important facts to consider before getting the advanced solution.
Implants offer a wide range of benefits, The Paddington Dental Surgery team adds. Not only are they extremely sturdy (in fact, they can be stronger than natural teeth), but they can accommodate as many or as few teeth as the patient needs, from single-tooth implants to full-mouth teeth replacements (i.e., All-on-4™ implant-supported dentures). They can also maintain a healthy jawbone structure, a significant advantage they hold over traditional dentures, which do not help prevent bone recession. The dentists also stress implants' ability to stay in place without slipping or causing speech difficulties.
At The Paddington Dental Surgery, the dental implant procedure generally involves a three-step process: planning, placement, and the final restoration. Each dental implant crown is designed to emulate the patient's natural teeth, from its shade to its shape. Before the crown is specially crafted, a titanium post is surgically placed in the patient's mouth. This implant fuses to the jawbone in a process called osseointegration, which can take three to six months. After the final crown is placed, however, patients usually report that it was well worth the wait.
Although most people can be considered a candidate for this treatment, the dentists explain, those with insufficient jawbone structure may be pointed toward a different procedure. For those who are eligible for dental implants, the procedure has helped improve the oral health and overall quality of life for patients all over the world.
About The Paddington Dental Surgery
The Paddington Dental Surgery in Sydney has been a trusted dental team for many years. The practice, established in 2003, provides a comprehensive list of treatments for patients of all ages, rendering it an ideal practice for families. Dr Duncan Copp and the rest of the team have received wonderful feedback from the practice's devoted patients, and the office is equipped with some of the most innovative technology available. Dr Copp and the rest of the team are available for interview upon request.
For more information about dental implants and The Paddington Dental Surgery, visit thepaddingtondentalsurgery.com.au.
Contact:
The Paddington Dental Surgery
263 Glenmore Road
Paddington NSW 2021
Sydney, Australia
(02) 9331-2555
Rosemont Media
(800) 491-8623
www.rosemontmedia.com