Dental Clinic in Sydney Recognised for Excellence in Patient Care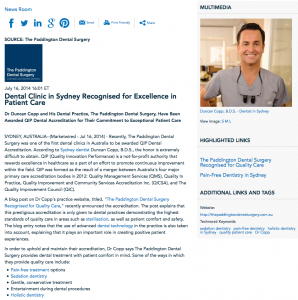 Dental Clinic in Sydney Recognised for Excellence in Patient Care
Dr Duncan Copp and his dental practice, The Paddington Dental Surgery, have been awarded QIP Dental Accreditation for their commitment to exceptional patient care.
Sydney, AU — Recently, The Paddington Dental Surgery was one of the first dental clinics in Australia to be awarded QIP Dental Accreditation. According to Sydney dentist Duncan Copp, B.D.S., the honour is extremely difficult to obtain. QIP (Quality Innovation Performance) is a not-for-profit authority that rewards excellence in healthcare as a part of an effort to promote continuous improvement within the field. QIP was formed as the result of a merger between Australia's four major primary care accreditation bodies in 2012: Quality Management Services (QMS), Quality In Practice, Quality Improvement and Community Services Accreditation Inc. (QICSA), and The Quality Improvement Council (QIC).
A blog post on Dr Copp's practice website, titled, "The Paddington Dental Surgery Recognised for Quality Care," recently announced the accreditation. The post explains that this prestigious accreditation is only given to dental practices demonstrating the highest standards of quality care in areas such as sterilisation, as well as patient comfort and safety. The blog entry notes that the use of advanced dental technology in the practice is also taken into account, explaining that it plays an important role in creating positive patient experiences.
In order to uphold and maintain their accreditation, Dr Copp says The Paddington Dental Surgery provides dental treatment with patient comfort in mind. Some of the ways in which they provide quality care include:
Pain-free treatment options
Gentle, conservative treatment
Entertainment during dental procedures
Ultimately, Dr Copp says this accreditation can assist patients in finding a dentist they can trust, and he encourages those in need of dental care to seek a dentist who has consistently demonstrated excellence in patient care. He adds that he is very proud of his clinic's achievement and plans to continue to provide the highest levels of patient care at The Paddington Dental Surgery.

About Duncan Copp, B.D.S.
Dr Copp is a graduate of Otago School of Dentistry (New Zealand) and the Las Vegas Institute for Advanced Dental Studies. He has been practicing general and cosmetic dentistry for over twenty years and is currently one of only a few dentists selected internationally for the renowned King's College London Dental School Postgraduate Masters in Cosmetic Dentistry Program. Once completed, Dr Copp will be among a minority of dentists throughout the world to hold this noteworthy distinction. He is available for interview upon request.
For more information about Dr Copp and QIP Dental Accreditation, visit thepaddingtondentalsurgery.com.au.
Contact:

The Paddington Dental Surgery
263 Glenmore Road
Paddington NSW 2021
Sydney, Australia
(02) 9331-2555
Rosemont Media
tom@rosemontmedia.com
(858) 200-0044
www.rosemontmedia.com