Dentist in Sydney Designated as Invisalign® Platinum Provider for Sixth Consecutive Year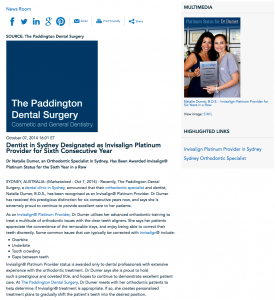 Dr Natalie Dumer, an orthodontic dentist in Sydney, has been awarded Invisalign® Platinum Status for the sixth year in a row.
Sydney, AU — Recently, The Paddington Dental Surgery, a dental clinic in Sydney, announced that their orthodontic dentist, Natalie Dumer, B.D.S., has been recognised as an Invisalign® Platinum Provider. Dr Dumer has received this prestigious distinction for six consecutive years now, and says she is extremely proud to continue to provide excellent care to her patients.
As an Invisalign® Platinum Provider, Dr Dumer utilises her advanced orthodontic training to treat a multitude of orthodontic issues with the clear teeth aligners. She says her patients appreciate the convenience of the removable trays, and enjoy being able to correct their teeth discreetly. Some common issues that can typically be corrected with Invisalign® include:
Overbite
Underbite
Tooth crowding
Gaps between teeth
Invisalign® Platinum Provider status is awarded only to dental professionals with extensive experience with the orthodontic treatment. Dr Dumer says she is proud to hold
such a prestigious and coveted title, and hopes to continue to demonstrate excellent patient care. At The Paddington Dental Surgery, Dr Dumer meets with with her orthodontic patients to help determine if Invisalign® treatment is appropriate. If so, she creates personalised treatment plans to gradually shift the patient's teeth into the desired position.
Unlike traditional orthodontic treatments, Invisalign® allows patients to remove the aligner trays for convenience when eating, drinking, brushing, or flossing teeth. The trays are also designed to be clear when worn, allowing for inconspicuous treatment. Overall, Dr Dumer recommends for anyone considering Invisalign® to seek out a dental professional who is skilled and experienced with the treatment, such as an Invisalign® Platinum Provider.
About Natalie Dumer, B.D.S.
General dentist Dr Dumer is a graduate of Sydney University Dental School. She has achieved Invisalign® Platinum Provider status for six consecutive years, and has completed extensive postgraduate training in general dentistry, as well as orthodontic treatments. She is available for interview upon request.
To learn more about Dr Dumer and The Paddington Dental Surgery, please visit thepaddingtondentalsurgery.com.au.
Contact:
The Paddington Dental Surgery
263 Glenmore Road
Paddington NSW 2021
Sydney, Australia
(02) 9331-2555
Rosemont Media
(858) 200-0044
www.rosemontmedia.com