The Paddington Dental Surgery Named "Best Dental Clinic in Sydney" by LUXE City Guides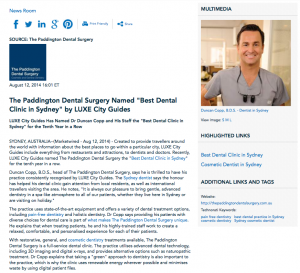 LUXE City Guides has named Dr Duncan Copp and his staff the "Best Dental Clinic in Sydney" for the tenth year in a row.
Sydney, AU — Created to provide travellers around the world with information about the best places to go within a particular city, LUXE City Guides include everything from restaurants and attractions, to dentists and doctors. Recently, LUXE City Guides named The Paddington Dental Surgery the "Best Dental Clinic in Sydney" for the tenth year in a row.
Duncan Copp, B.D.S., head of The Paddington Dental Surgery, says he is thrilled to have his practice consistently recognised by LUXE City Guides. The Sydney dentist says the honour has helped his dental clinic gain attention from local residents, as well as international travellers visiting the area. He notes, "It is always our pleasure to bring gentle, advanced dentistry in a spa-like atmosphere to all of our patients, whether they live here in Sydney or are visiting on holiday."
The practice uses state-of-the-art equipment and offers a variety of dental treatment options, including pain-free dentistry and holistic dentistry. Dr Copp says providing his patients with diverse choices for dental care is part of what makes The Paddington Dental Surgery unique. He explains that when treating patients, he and his highly-trained staff work to create a relaxed, comfortable, and personalised experience for each of their patients.
With restorative, general, and cosmetic dentistry treatments available, The Paddington Dental Surgery is a full-service dental clinic. The practice utilises advanced dental technology, including 3D imaging and digital x-rays, and provides alternative options such as naturopathic treatment. Dr Copp explains that taking a "green" approach to dentistry is also important to the practice, which is why the clinic uses renewable energy wherever possible and minimises waste by using digital patient files.
Ultimately, Dr Copp says his practice is committed to providing patients with world-class treatment. With a friendly and knowledgeable team of dental professionals offering high-quality treatments, Dr Copp hopes his practice will continue to be recognised for years to come.
About Duncan Copp, B.D.S.
Dr Copp is a member of many respected professional dental organisations, including the Australian Dental Association, the American Academy of Cosmetic Dentistry, and the American Dental Association. With over twenty years of experience as a practicing general and cosmetic dentist, he is one of very few dentists worldwide to be selected for the prestigious King's College London Dental Schools Post Graduate Masters in Cosmetic Dentistry Program. Dr Copp is available for interview upon request.
To learn more about Dr Copp and The Paddington Dental Surgery, please visit thepaddingtondentalsurgery.com.au.
Contact:
The Paddington Dental Surgery
263 Glenmore Road
Paddington NSW 2021
Sydney, Australia
(02) 9331-2555
Rosemont Media
tom@rosemontmedia.com
(858) 200-0044
www.rosemontmedia.com