Porcelain Veneers Offer Myriad Benefits, Say Sydney Dentists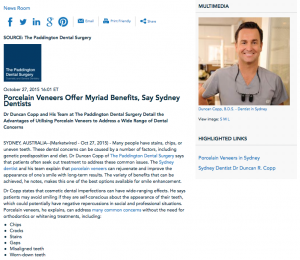 Dr Duncan Copp and his team at The Paddington Dental Surgery detail the advantages of utilising porcelain veneers to address a wide range of dental concerns.
Sydney, AU — Many people have stains, chips, or uneven teeth. These dental concerns can be caused by a number of factors, including genetic predisposition and diet. Dr Duncan Copp of The Paddington Dental Surgery says that patients often seek out treatment to address these common issues. The Sydney dentist and his team explain that porcelain veneers can rejuvenate and improve the appearance of one's smile with long-term results. The variety of benefits that can be achieved, he notes, makes this one of the best options available for smile enhancement.
Dr Copp states that cosmetic dental imperfections can have wide-ranging effects. He says patients may avoid smiling if they are self-conscious about the appearance of their teeth, which could potentially have negative repercussions in social and professional situations. Porcelain veneers, he explains, can address many common concerns without the need for orthodontics or whitening treatments, including:
Chips

Cracks

Stains

Gaps

Misaligned teeth

Worn-down teeth
Additionally, Dr Copp indicates that porcelain veneers typically will be long-lasting. However, he emphasises the importance of good oral hygiene to preserve the quality of the veneers. Patients interested in this technique should research an experienced dentist, Dr Copp says; one who utilises the best techniques, technology, and materials available. Dr Copp has been awarded one of Australia's first Post Graduate Diplomas in Cosmetic Dentistry with Distinction, and he indicates this provides him with the knowledge, skill, and artistry to create beautiful smiles.
Dr Copp states that individuals who are uncomfortable with the appearance of their teeth may wish to consider porcelain veneers. At his practice, he says he customises the shape and color of each veneer to blend seamlessly with the other teeth. The Sydney dentist says the goal is to provide the most natural-looking result possible while also achieving a beautiful, rejuvenated smile.
About The Paddington Dental Surgery
Led by Dr Duncan Copp, The Paddington Dental Surgery offers a comprehensive range of general, cosmetic, and restorative dental procedures. Along with Dr Copp, the dental team is comprised of Dr Natalie Dumer, Dr Mark Brycki, Dr David Cipriani, and several skilled dental hygienists. Additionally, an on-site naturopath provides holistic treatment options. The practice emphasises excellence, safety, and results in a luxurious, state-of-the-art environment.
For more information about The Paddington Dental Surgery, please visit thepaddingtondentalsurgery.com.au and plus.google.com/+ThepaddingtondentalsurgeryAu
Contact:
The Paddington Dental Surgery
263 Glenmore Road
Paddington NSW 2021
Sydney, Australia
(02) 9331-2555
Rosemont Media
858-200-0044
www.rosemontmedia.com