Sydney Dental Practice Details Medical and Holistic Sedation Dentistry Methods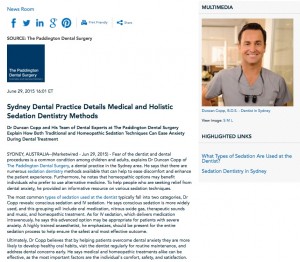 Dr Duncan Copp and his team of dental experts at The Paddington Dental Surgery explain how both traditional and homeopathic sedation techniques can ease anxiety during dental treatment.
Sydney, AU—Fear of the dentist and dental procedures is a common condition among children and adults, explains Dr Duncan Copp of The Paddington Dental Surgery, a dental practice in the Sydney area. He says that there are numerous sedation dentistry methods available that can help to ease discomfort and enhance the patient experience. Furthermore, he notes that homeopathic options may benefit individuals who prefer to use alternative medicine. To help people who are seeking relief from dental anxiety, he provided an informative resource on various sedation techniques.
The most common types of sedation used at the dentist typically fall into two categories, Dr Copp reveals: conscious sedation and IV sedation. He says conscious sedation is more widely used, and this grouping will include oral medication, nitrous oxide gas, therapeutic sounds and music, and homeopathic treatment. As for IV sedation, which delivers medication intravenously, he says this advanced option may be appropriate for patients with severe anxiety. A highly trained anaesthetist, he emphasizes, should be present for the entire sedation process to help ensure the safest and most effective outcome.
Ultimately, Dr Copp believes that by helping patients overcome dental anxiety they are more likely to develop healthy oral habits, visit the dentist regularly for routine maintenance, and address dental concerns early. He says medical and homeopathic treatments alike can be effective, as the most important factors are the individual's comfort, safety, and satisfaction.
About The Paddington Dental Surgery
Designed as a premium dental practice for patients in the Sydney area, The Paddington Dental Surgery offers a comprehensive selection of general, cosmetic, and reconstructive dentistry procedures, including holistic care. Led by Drs Duncan Copp, Natalie Dumer, Mark Brycki, and David Cipriani, in conjunction with a team of hygienists and an on-site naturopath, the practice strives to provide an exceptional experience from start to finish. In addition to their compassionate philosophy, the state-of-the-art facilities are equipped with the latest dental technology to deliver the safest and most effective results possible.
For more information about The Paddington Dental Surgery, please visit thepaddingtondentalsurgery.com.au and plus.google.com/+ThepaddingtondentalsurgeryAu.
Contact:
The Paddington Dental Surgery
263 Glenmore Road
Paddington NSW 2021
Sydney, Australia
(02) 9331-2555
Rosemont Media
858-200-0044
www.rosemontmedia.com