Sydney Dental Practice Emphasises Importance of Total Health Dentistry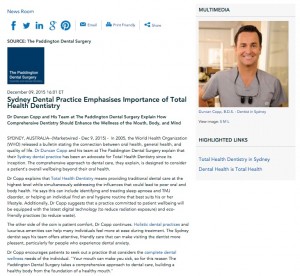 Dr Duncan Copp and his team at The Paddington Dental Surgery explain how comprehensive dentistry should enhance the wellness of the mouth, body, and mind.
Sydney, AU — In 2005, the World Health Organization (WHO) released a bulletin stating the connection between oral health, general health, and quality of life. Dr Duncan Copp and his team at The Paddington Dental Surgery explain that their Sydney dental practice has been an advocate for Total Health Dentistry since its inception. The comprehensive approach to dental care, they explain, is designed to consider a patient's overall wellbeing beyond their oral health.
Dr Copp explains that Total Health Dentistry means providing traditional dental care at the highest level while simultaneously addressing the influences that could lead to poor oral and body health. He says this can include identifying and treating sleep apnoea and TMJ disorder, or helping an individual find an oral hygiene routine that best suits his or her lifestyle. Additionally, Dr Copp suggests that a practice committed to patient wellbeing will be equipped with the latest digital technology (to reduce radiation exposure) and eco-friendly practices (to reduce waste).
The other side of the coin is patient comfort, Dr Copp continues. Holistic dental practices and luxurious amenities can help many individuals feel more at ease during treatment. The Sydney dentist says his team offers attentive, friendly care that can make visiting the dentist more pleasant, particularly for people who experience dental anxiety.
Dr Copp encourages patients to seek out a practice that considers the complete dental wellness needs of the individual. "Your mouth can make you sick, so for this reason The Paddington Dental Surgery takes a comprehensive approach to dental care, building a healthy body from the foundation of a healthy mouth."
About The Paddington Dental Surgery
The Paddington Dental Surgery is a premium dental practice located in the Sydney area. The team of experienced dentists, including Drs Duncan Copp, Natalie Dumer, Mark Brycki, and David Cipriani, offer a comprehensive selection of general, cosmetic, and restorative dental treatments. To provide an exceptional patient experience, the practice utilises holistic practices, maintains an on-site Naturopath, and emphasises Total Health Dentistry.
For more information about The Paddington Dental Surgery, please visit thepaddingtondentalsurgery.com.au and plus.google.com/+ThepaddingtondentalsurgeryAu.
Contact:
The Paddington Dental Surgery
263 Glenmore Road
Paddington NSW 2021
Sydney, Australia
(02) 9331-2555
Rosemont Media
(858) 200-0044
www.rosemontmedia.com